Browser Fingerprint Testing with Cover Your Tracks by EFF
A brief comparison of browser fingerprinting test metrics, using the Cover Your Tracks project by EFF.
Our web browsers and web browsing habits leave bread crumbs along the way - a digital footprint - which can be tracked to uniquely identify the browser (aka fingerprint). Privacy-conscious users typically install ad blockers and anti-tracking add-ons to thwart this; some browsers help further by trying to make all instances look the same and confusing trackers.
In an earlier post on 10 simple ways to improve your privacy online, I highlighted the value of a privacy-focused web browser. Privacy, in this context, is a spectrum though. Browser defaults are usually weak and insufficient to protect your privacy, yet, if you turn the knob too hard, your web browsing experience gets hampered. As with most things in life, the answer lies somewhere in between. A healthy mix of secure and private browser settings, combined with user privacy self-awareness, enabling them to change the defaults.
In this post, I'll cover the current state of fingerprinting across different browsers. To ensure a fair comparison, I'll stick with the browser defaults.
What is Cover Your Tracks?
Cover Your Tracks is a project by the Electronic Frontier Foundation that tests your browser to see how well you are protected from tracking and fingerprinting. The test shows whether your browser (and add-ons) has a unique fingerprint and whether it blocks tracking ads and other invisible trackers. Consequently, you can also use it to test the efficacy of privacy add-ons.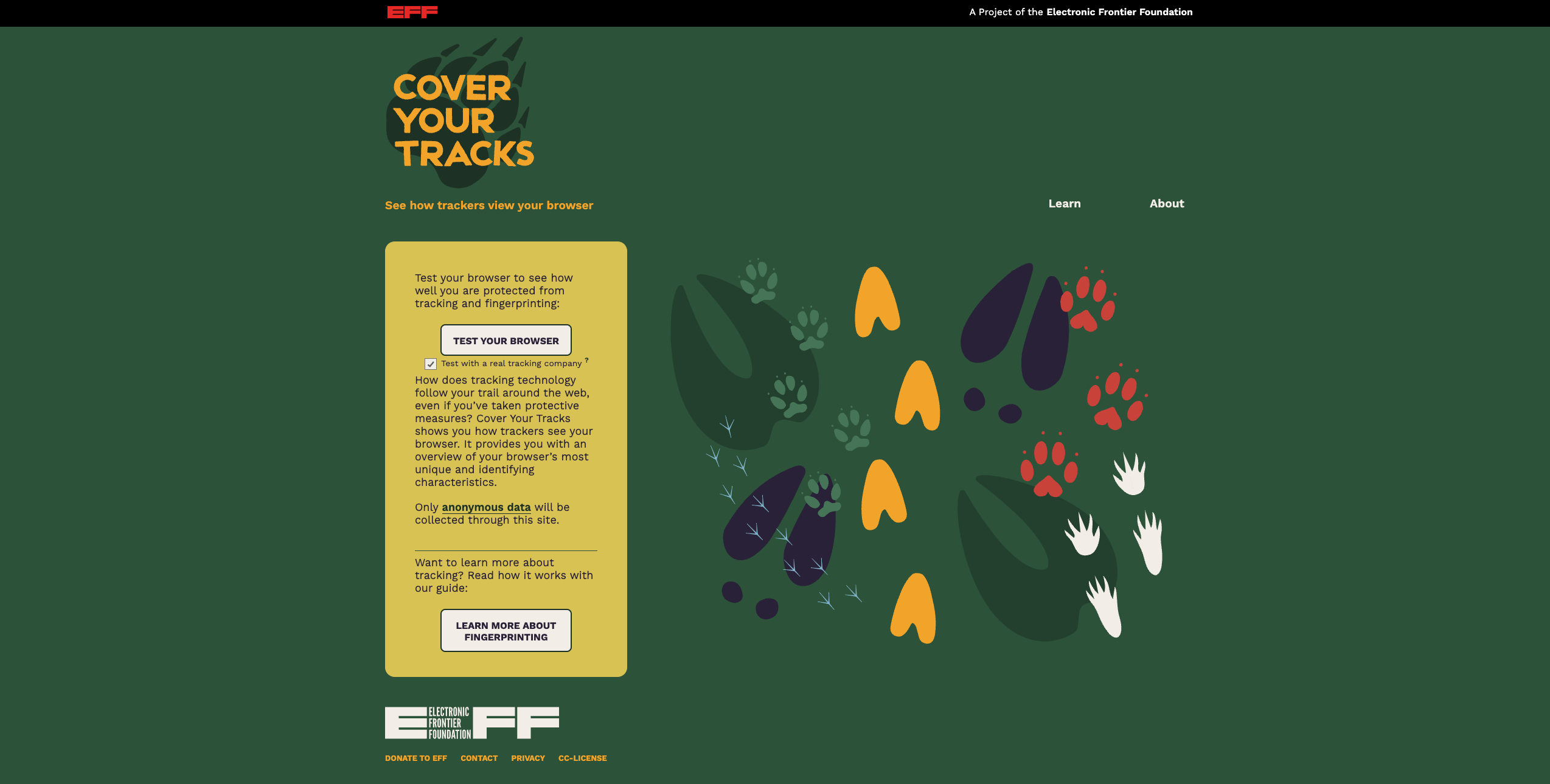 For this comparison, I used a fresh virtual machine, with a vanilla installation of the Windows 10 Home edition. Microsoft Edge was obviously present by default (and screaming at the competition), but I installed the latest stable releases for other browsers like Chrome, Firefox, Opera, Brave, and Vivaldi. I did consider the Tor Browser too, but eventually excluded it from the comparison - users are less likely to use it, and the benefits of Tor don't usually outweigh the implications of using it for most users. Also, this being a test of defaults, I did not change any of the browser settings post-installation.
Browser Test Results for Microsoft Edge
The incumbent browser on Windows does not block ads and trackers by default but does allow you to choose between Basic, Balanced, and Strict tracking prevention levels. While Edge blocks known harmful trackers, the levels are a bit ambiguous as even the supposedly Strict option states content and data will likely have minimal personalization, instead of none.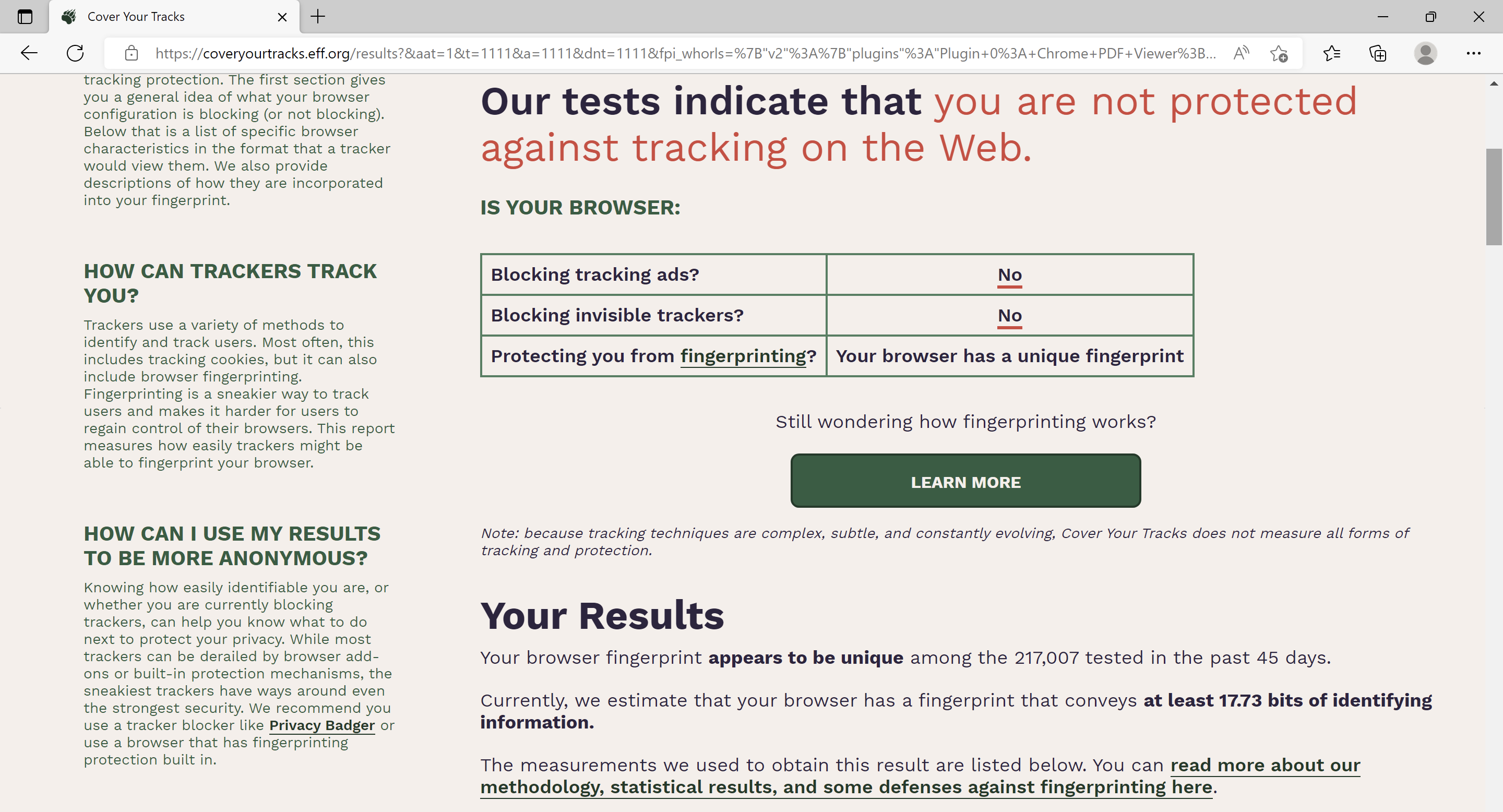 Browser Test Results for Google Chrome
Chrome, the most popular web browser today, has significantly improved its privacy controls over the years, making the verbiage a bit more approachable now, but still lacks privacy by default. Chrome blocks third-party cookies in Incognito mode, but does not offer tracking protection. Third-party cookies have been the subject of intense regulatory scrutiny in recent years, with Google now trialing the Privacy Sandbox as a means to restrict cross-site tracking.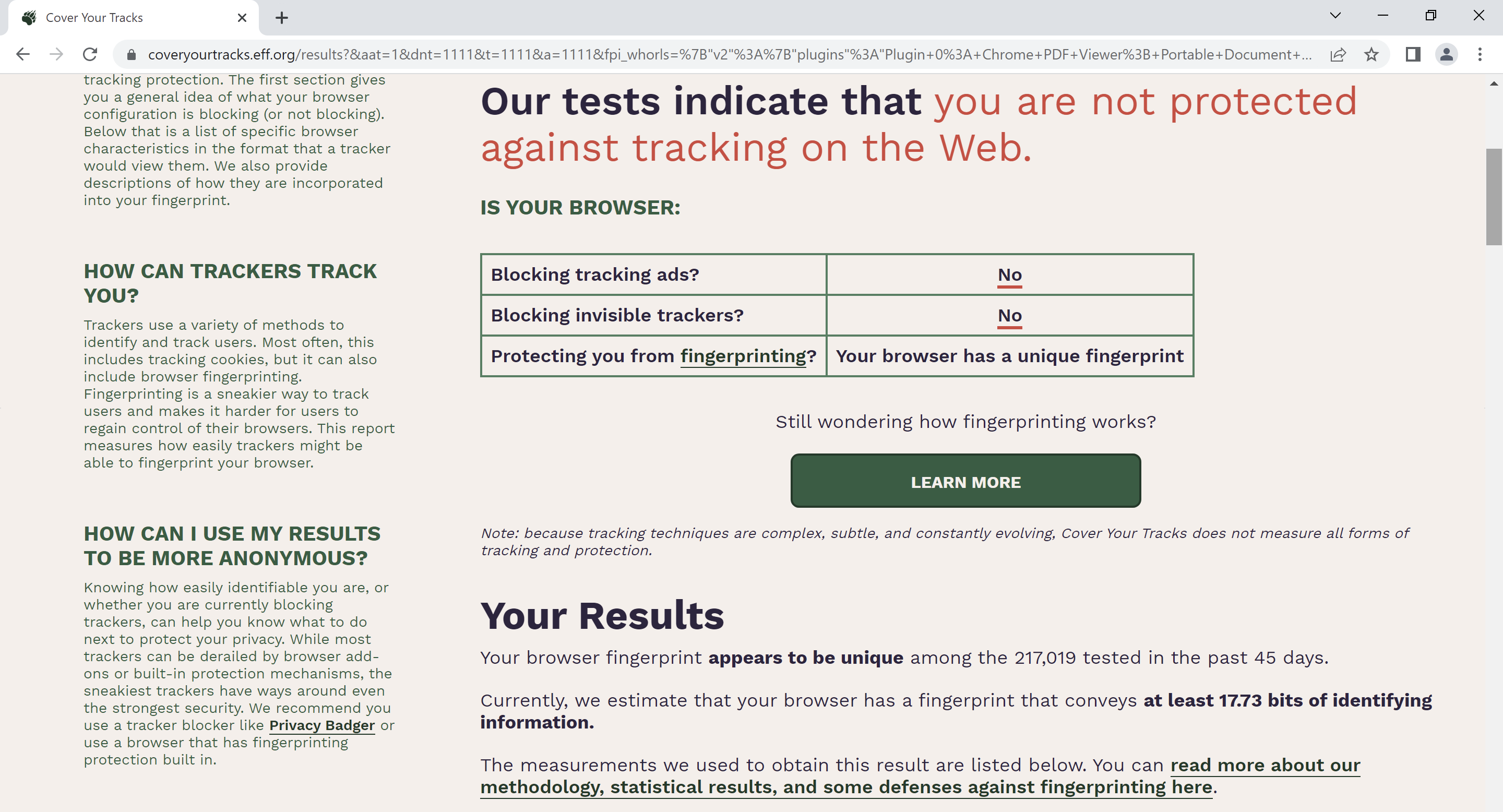 Browser Test Results for Mozilla Firefox
Firefox offers some tracking protection by default, blocking social media trackers, cross-site cookies, fingerprinters, and tracking content in Private windows as part of its Standard level. You can strengthen this to Strict, but can also expect several sites and content to break or not work correctly. If you know what you're doing, you can selectively block trackers and scripts using the Custom level. For iOS and Android devices, you can consider Firefox Focus, an open-source, privacy-focused fork with built-in tracking protection and ad blocking.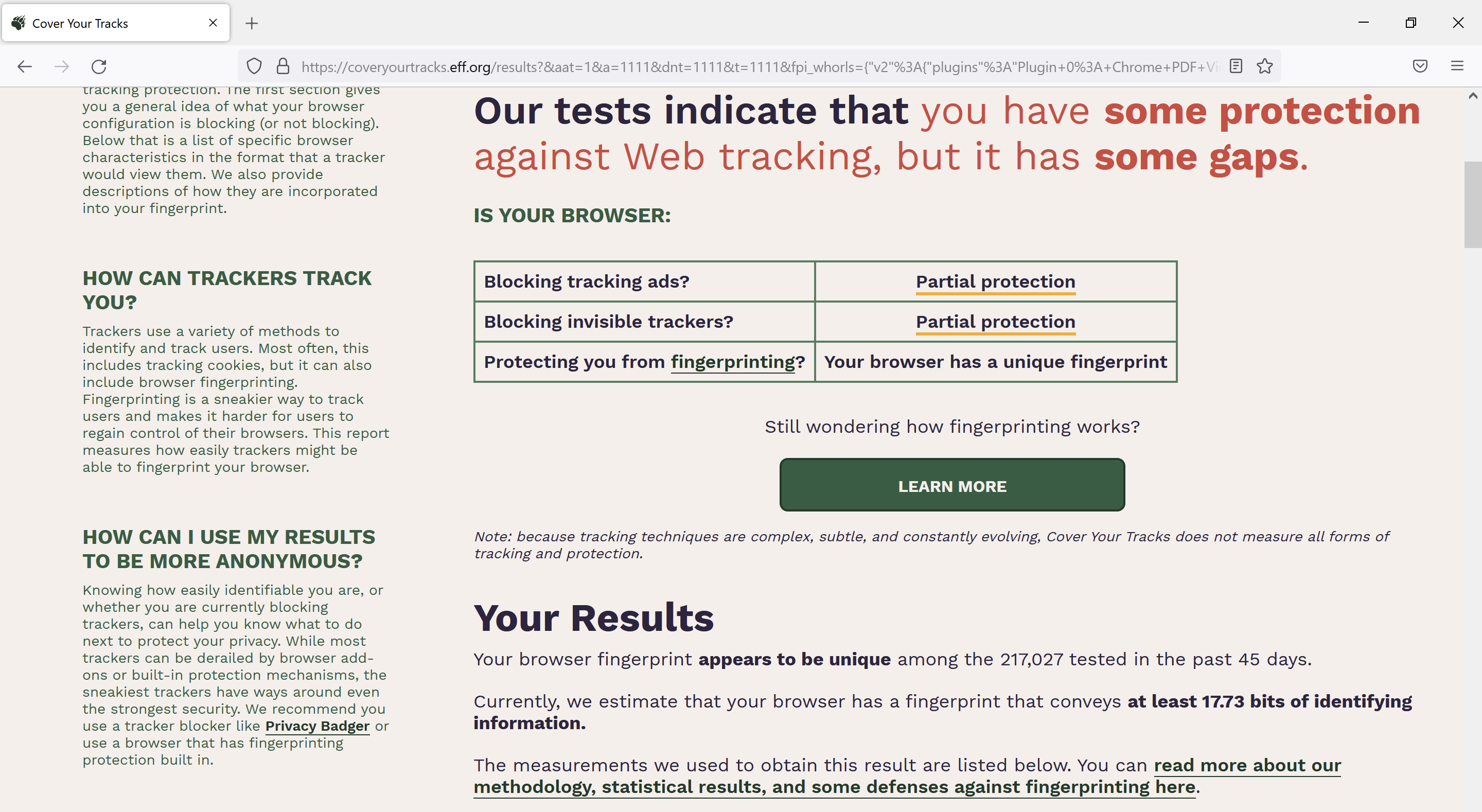 Browser Test Results for Opera
Opera does not block ads and trackers by default but probably offers the easiest customization options with one-click access to the privacy settings from the Easy Setup dropdown menu. Once enabled, the Privacy Protection add-on makes it easy to disable the settings per site if necessary.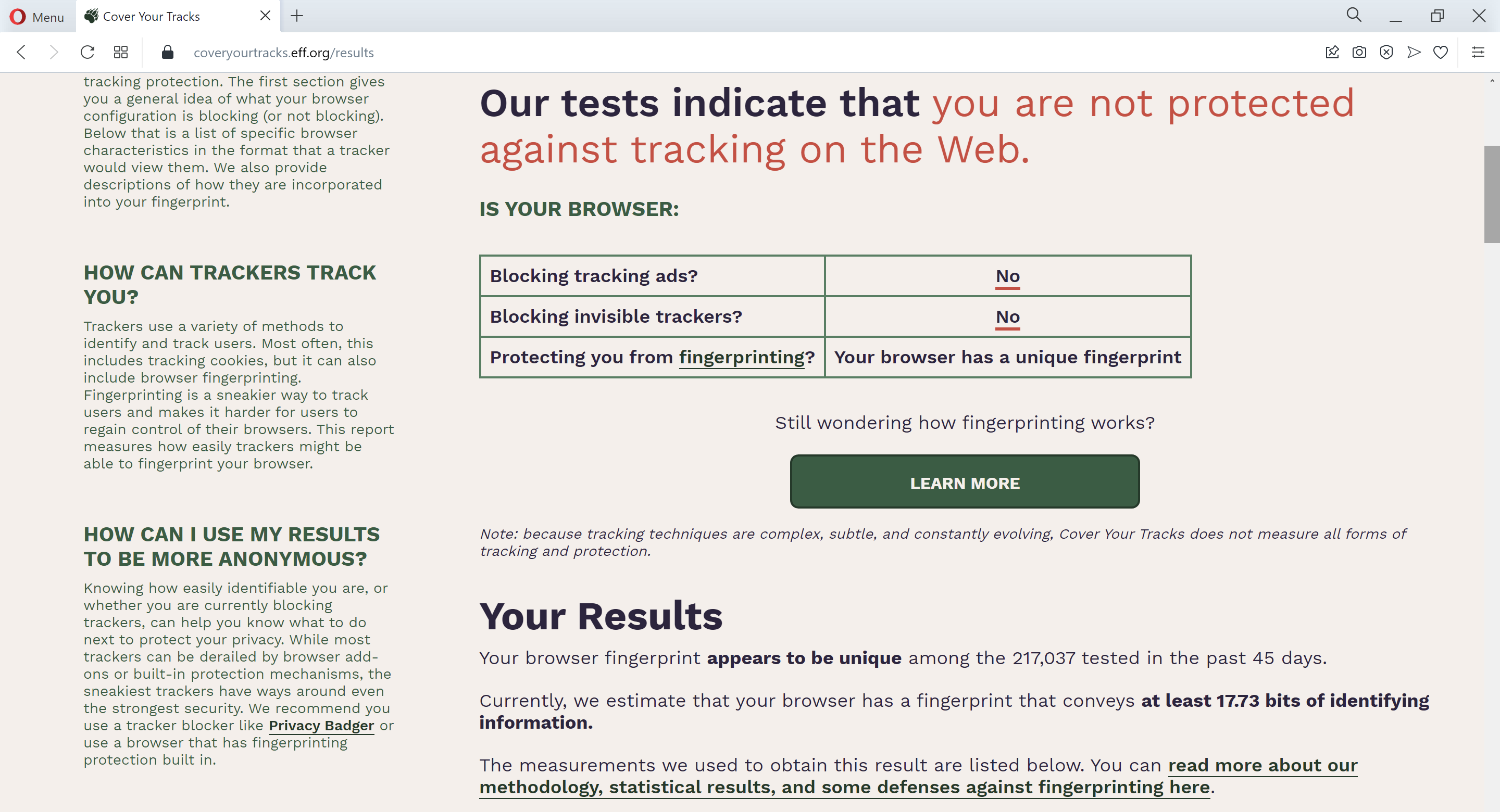 Browser Test Results for Brave
As you can see from the browser test results below, Brave has the strongest default protection against ads and trackers, with the browser also offering a randomized fingerprint to websites. Brave is adding web3 support (e.g. crypto wallet, ENS domains, Unstoppable Domains) quite rapidly, and there is a chance that the bloat might inadvertently leak your private data over time. Ironically, however, Brave has options to send browser usage data to Brave themselves enabled by default.
Browser Test Results for Vivaldi
Finally, Vivaldi rounds up the browser tests by offering little default protection again. It does offer the option to block ads and trackers, but the options do not indicate the implications of doing so, making it a bit unfriendly for users.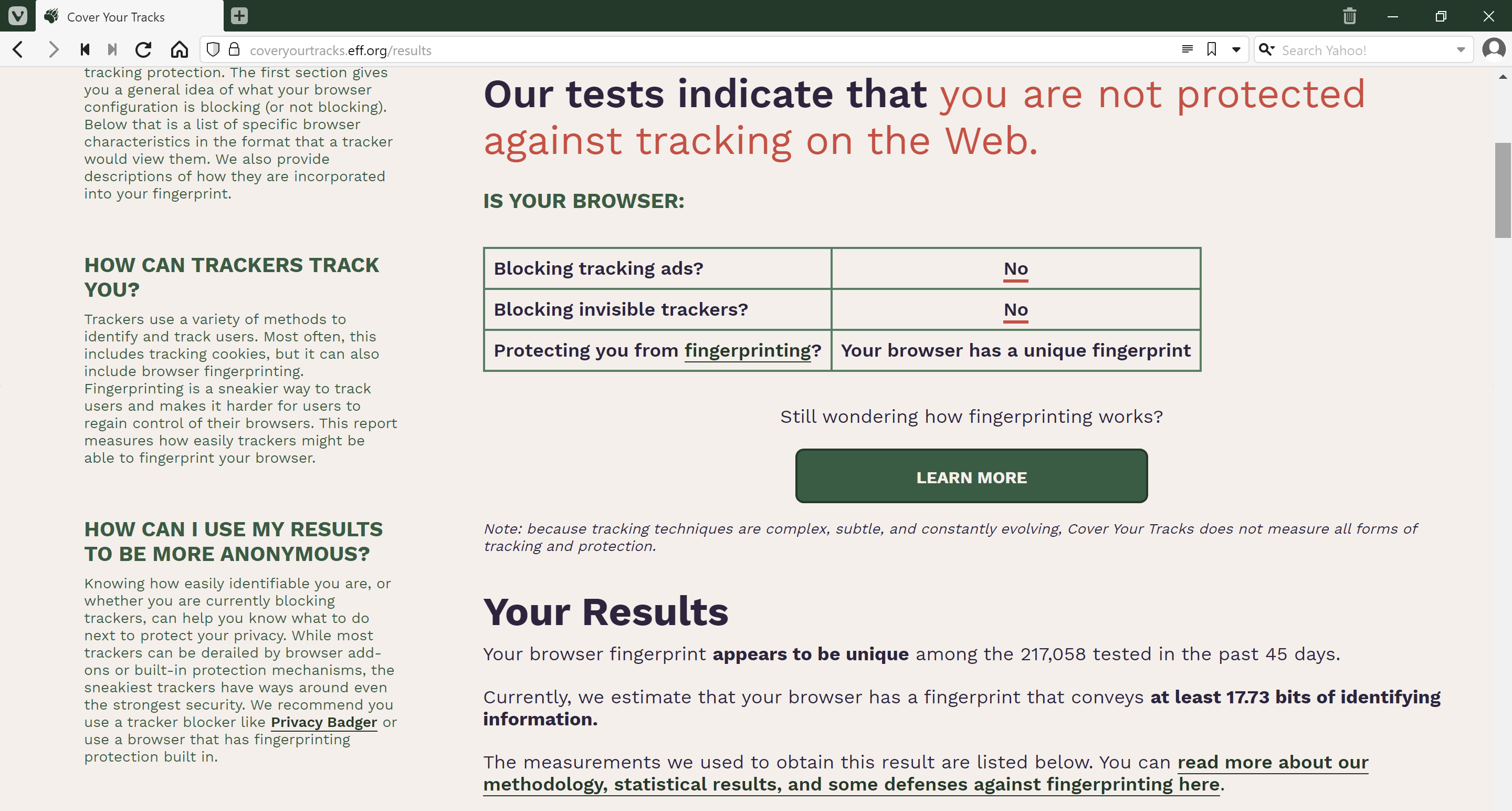 Final Remarks
Just based on the results above, it is clear that Brave offers the strongest tracking protection by default, followed by partial protection from Firefox, while the rest don't make a serious enough effort. Of course, the results will look different if the browser settings are tweaked to err on the side of privacy. But, that's a post for another day.
PS: I'm aware that the use of Google Analytics on this blog may conflict with the essence of this post. As a writer, it does offer valuable insights into the interests of my audience, often informing follow-up posts. As I intend to keep my posts free and public for as long as I can, I hope that transparency and education can help address your privacy needs, while simultaneously supporting my blog, and that you find this an acceptable approach while I explore possible alternatives.