How to Register a Terra Crypto Domain
A step-by-step guide to registering a Terra (.ust) crypto domain.
In this post, I'll continue the multi-part series on Web3 domain registrations with the Terra blockchain, following the popular posts on Ethereum, Solana and NFT domains using Unstoppable Domains. Terra has quickly become a top 10 network by market cap and, while Terra domains aren't too popular yet, it behooves us to understand how domain registration works. Frankly, of all the Web3 networks that I've covered, it was the easiest. Almost Web2-like.
What is Terra Name Service?
Taking inspiration from the Ethereum Name Service (ENS), Terra Name Service (TNS) aims to create easy-to-remember .ust names for your Terra addresses. TNS also allows you to provide a description, avatar, email, URL and social media details in the domain metadata.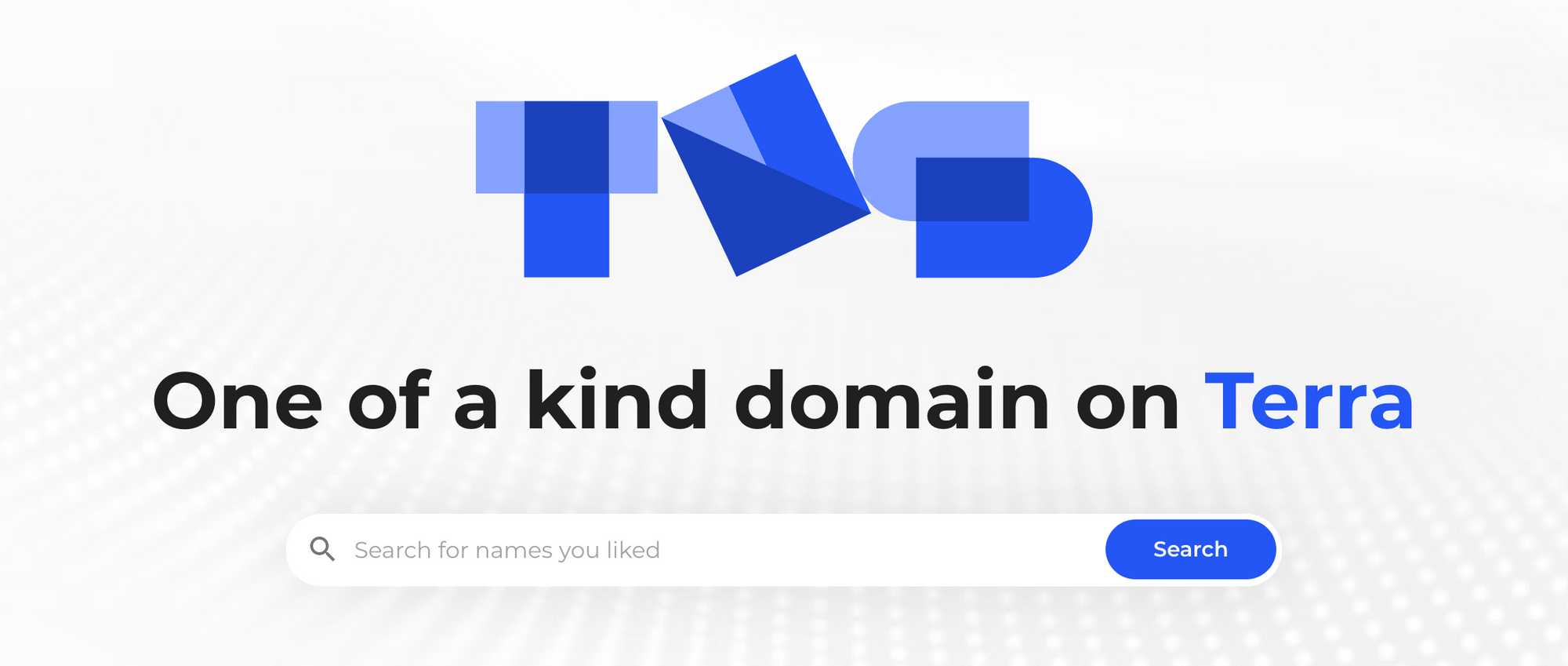 Unlike Solana, but much like ENS or Web2 domains, TNS requires you to pay an annual registration/renewal fee, payable in UST (Terra-native stablecoin). And, depending on the length of the domain name, it can get quite expensive to maintain. As of the time of writing,
5+ character names cost 24 UST per year
4+ character names cost 160 UST per year
3+ character names cost 640 UST per year
Each registration requires you to submit to transactions (covered in detail below), and is confirmed within a matter of seconds. TNS domains follow the cw-nfts standard, and can be traded on Terra NFT marketplaces.
Set up Your Terra Station Wallet
To get started, you'll first need a Terra wallet with some funds to buy and register the domain name. Terra Station is an extremely good first-party wallet, and is available as a web app, desktop/mobile app and browser extension. You can also connect to a Ledger hardware wallet for maximum security. Once you download or set it up, create a new wallet. Make sure to review and store the seed phrase in a secure location.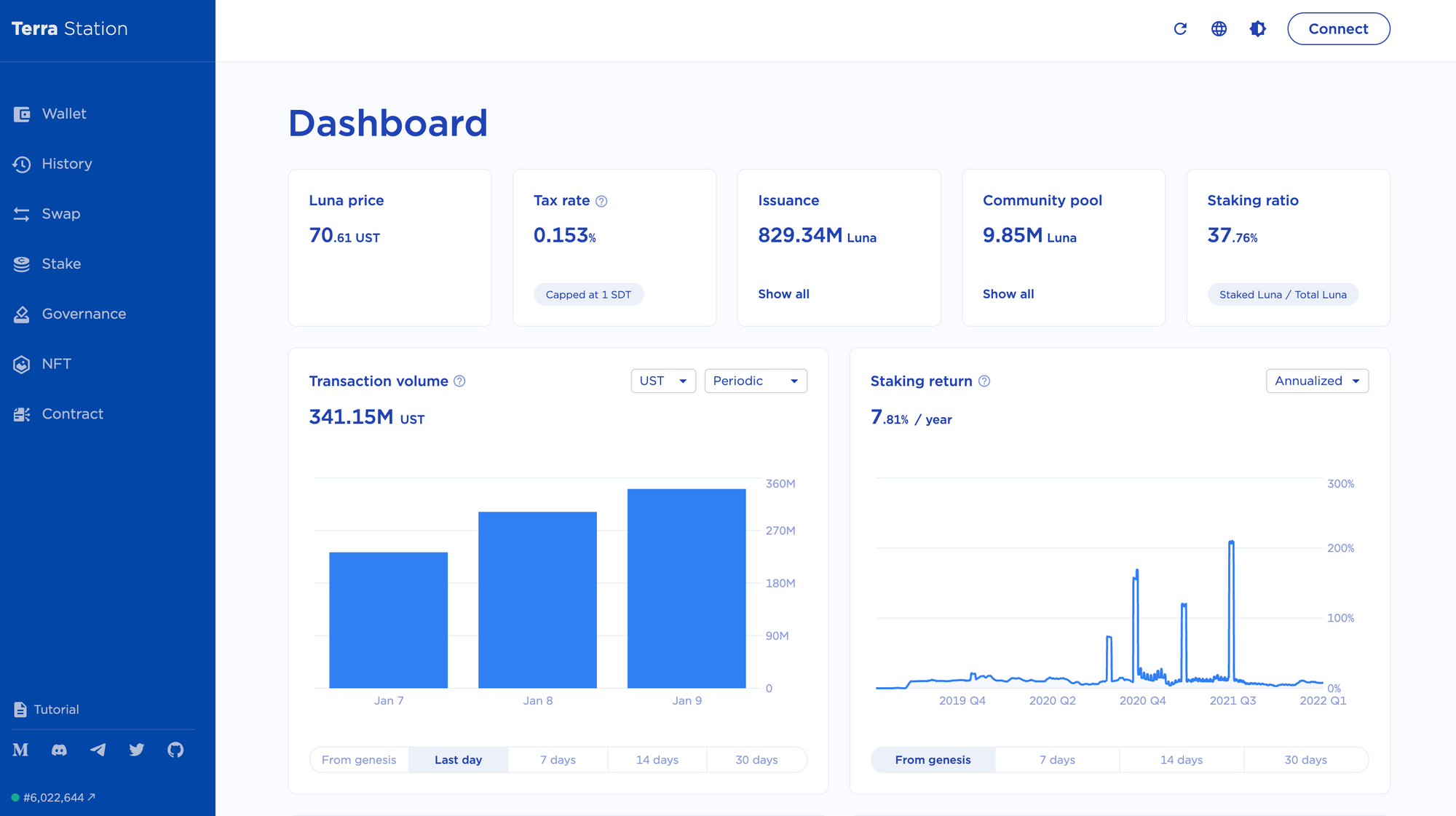 Once the wallet is ready, you'll need to fund it. Head over to Binance, Gate.io or another crypto exchange that supports Terra and create an account. Use a credit card or bank/wire transfer to fund your account and buy enough LUNA to cover your registration fees. Next, send the LUNA to your Terra address and wait for confirmation. Once you receive the funds, usually within minutes, swap the LUNA for UST, including a wee bit more for gas.
Register and Configure Terra Domain
Head over to Terra Name Service, connect your wallet and search for your desired domain. If you are in luck, click on the domain to buy it.

The domain purchase and registration takes place in two steps. First, click on  Request to register to submit a registration request.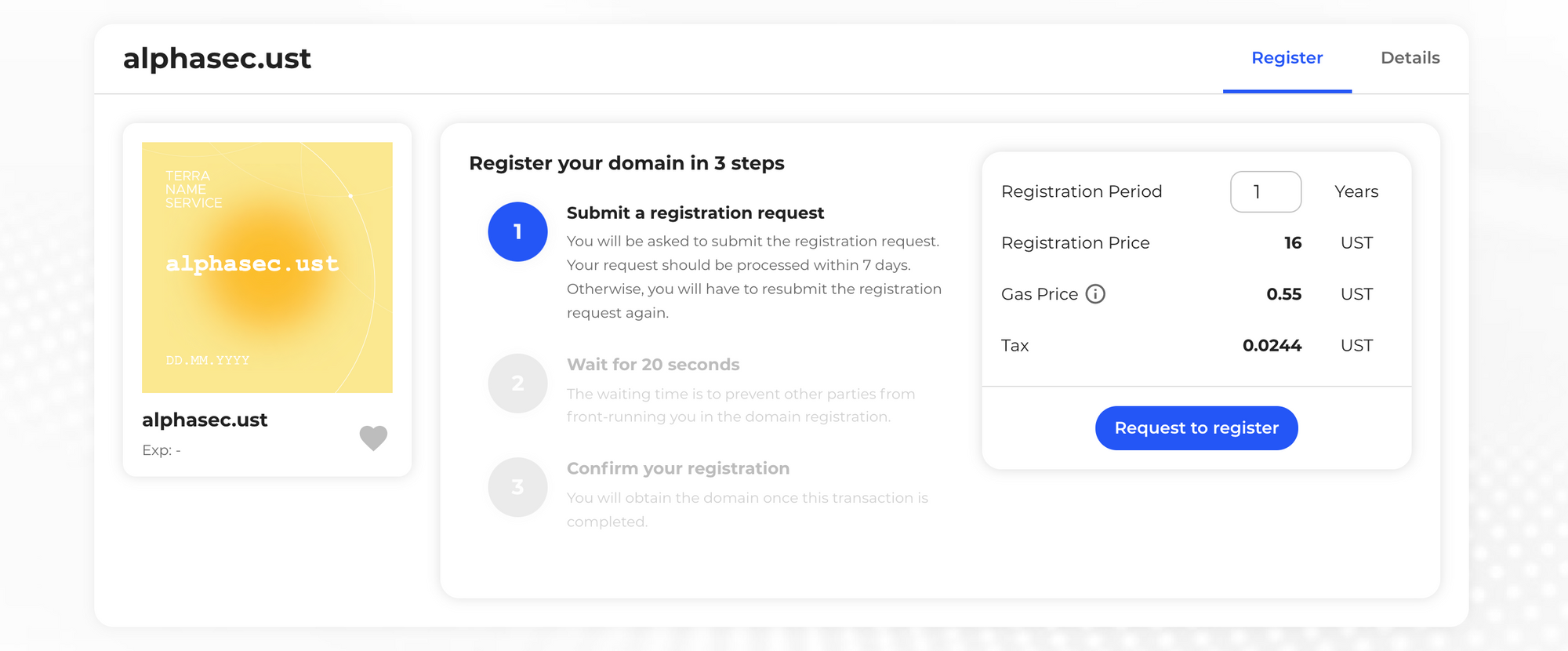 Approve the transaction in your wallet, and wait 20 seconds to prevent others from front-running your request. Once the domain is ready, confirm the registration by clicking Register now and approving the transaction. Congrats, your domain will be registered shortly.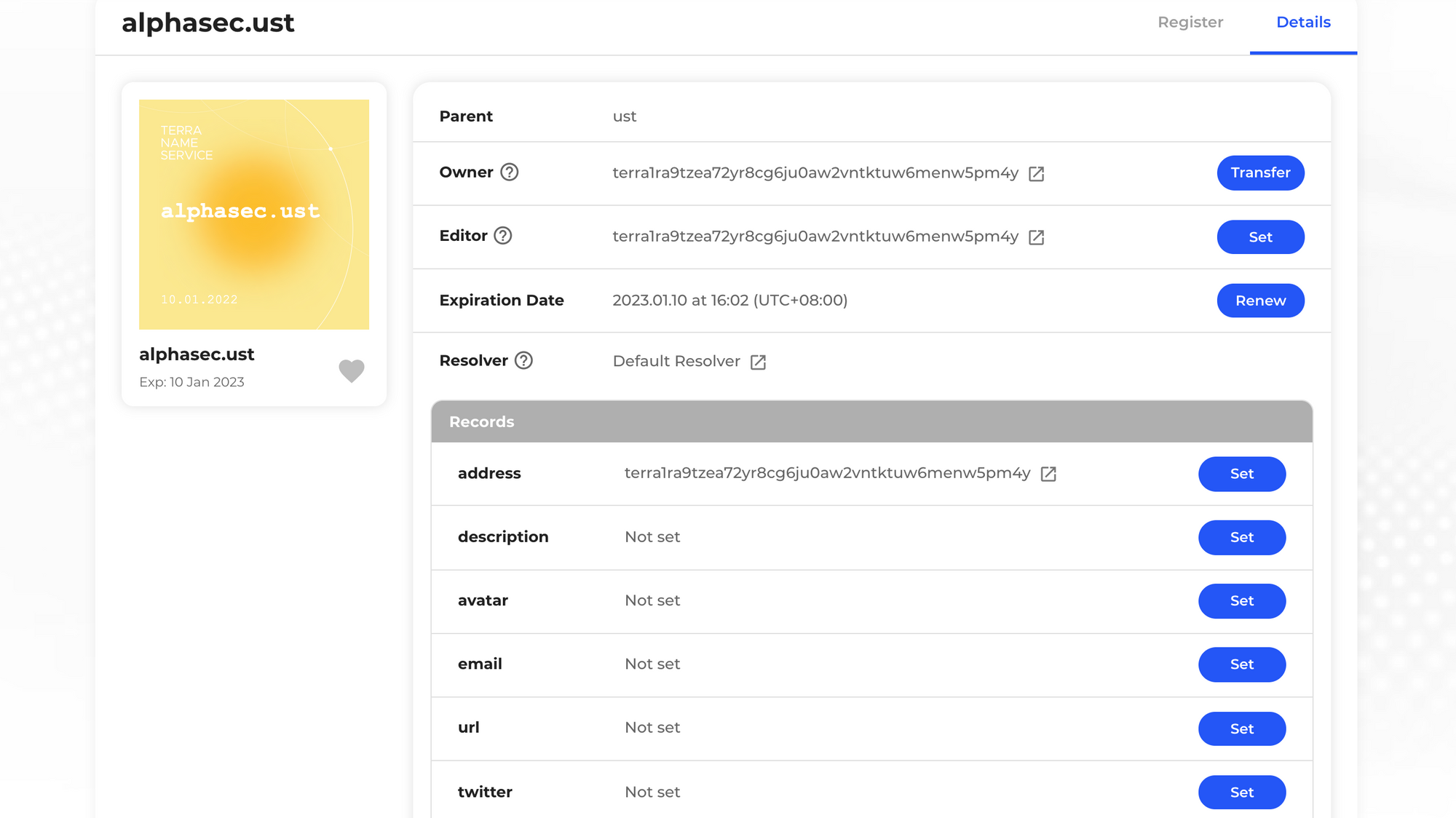 As mentioned earlier, you can configure additional attributes for your Terra domain if you wish. Each transaction costs 0.1 UST, so do remember to have sufficient funds. That's it, your Terra domain is now ready to be used in wallets, dapps and other supported Web3 resources.