Adding Ethereum-Compatible Networks to MetaMask
A brief guide to adding custom, Ethereum-compatible networks to MetaMask crypto wallet.
If you've played with crypto networks at all, you would have heard of MetaMask - it's one of the oldest and most popular non-custodial crypto wallets around. It's available as a browser extension as well as a mobile wallet, and allows you to buy, store, send and swap tokens seamlessly. You can also use MetaMask in conjunction with a hardware wallet like Ledger. MetaMask is primarily used to access Ethereum-based decentralized applications (dapps), but also supports several Ethereum-compatible networks. In this post, I'll cover the basic configuration required to add such custom networks to MetaMask.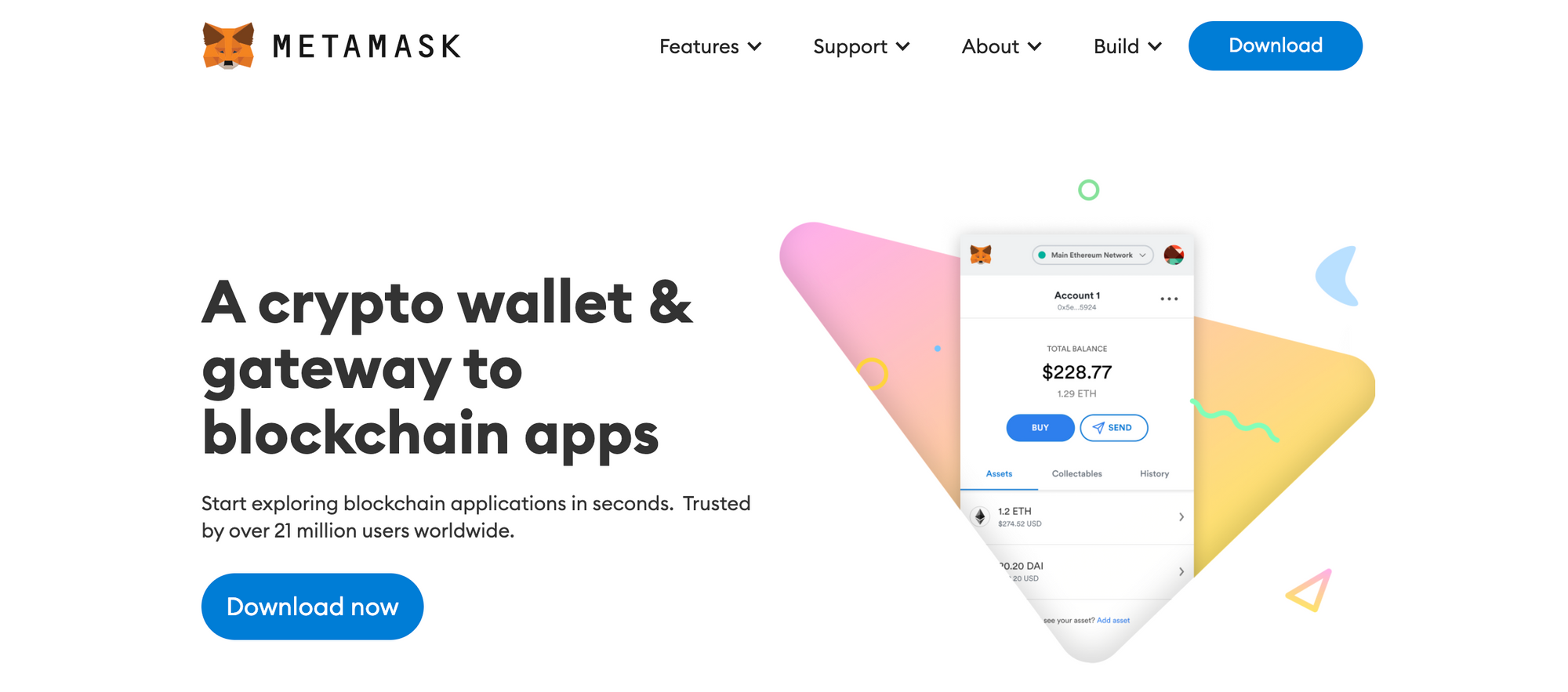 The steps to add a custom network to the MetaMask browser extension are outlined below (the steps are almost identical for the mobile wallet too).
Click on the My Accounts button (top-right corner) and go to Settings.
Scroll down to Networks and click Add Network.
Configure the Network Name, New RPC URL, Chain ID, Currency Symbol and Block Explorer URL based on the network to be added and click Save.
You'll see the newly added network in the dropdown list. Select the custom network and interact with the corresponding dapp.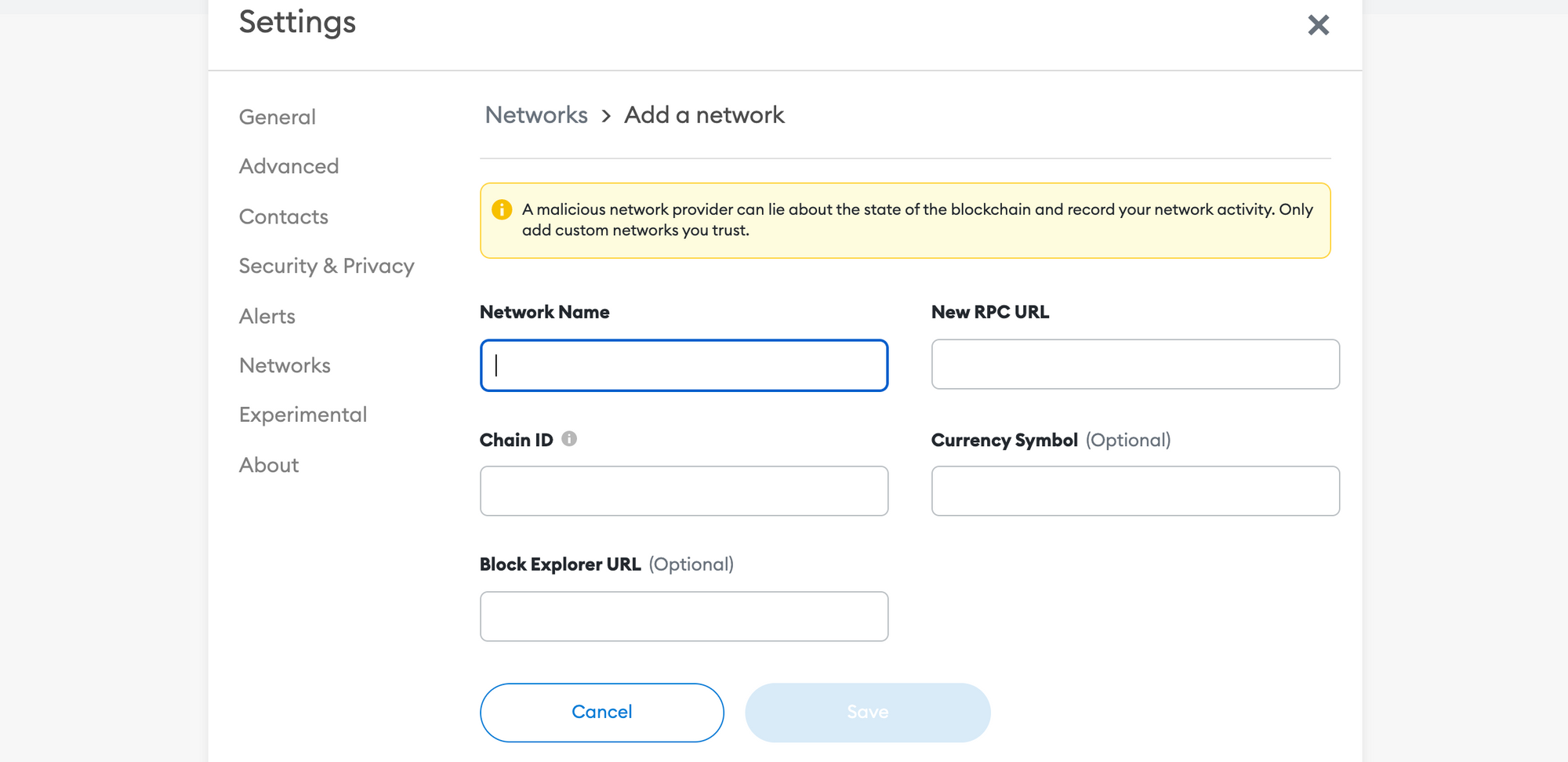 By default, you will only see Ethereum Mainnet in the dropdown list of networks in MetaMask (top of the wallet). If you want to see the test networks (Goerli, Kovan, Rinkeby, Ropsten) or the Localhost network used by developers, head over to Settings > Advanced, and enable the Show test networks option.
Below is a handy list of parameters for popular Ethereum-compatible networks.
Polygon, formerly Matic ($MATIC)
Network Name: Polygon
New RPC URL: https://polygon-rpc.com
Chain ID: 137
Currency Symbol (optional): MATIC
Block Explorer URL (optional): https://polygonscan.com
Arbitrum ($AETH)
Network Name: Arbitrum One
New RPC URL: https://arb1.arbitrum.io/rpc
Chain ID: 42161
Currency Symbol (optional): AETH
Block Explorer URL (optional): https://arbiscan.io
Optimism ($ETH)
Network Name: Optimism
New RPC URL: https://mainnet.optimism.io
Chain ID: 10
Currency Symbol (optional): ETH
Block Explorer URL (optional): https://optimistic.etherscan.io
Boba ($BOBA)
Network Name: Boba
New RPC URL: https://mainnet.boba.network
Chain ID: 288
Currency Symbol (optional): ETH
Block Explorer URL (optional): https://blockexplorer.boba.network
Binance Smart Chain ($BNB)
Network Name: Binance Smart Chain
New RPC URL: https://bsc-dataseed.binance.org
Chain ID: 56
Currency Symbol (optional): BNB
Block Explorer URL (optional): https://bscscan.com
TomoChain ($TOMO)
Network Name: TomoChain
New RPC URL: https://rpc.tomochain.com
Chain ID: 88
Currency Symbol (optional): TOMO
Block Explorer URL (optional): https://tomoscan.io
Avalanche ($AVAX)
Network Name: Avalanche
New RPC URL: https://api.avax.network/ext/bc/C/rpc
Chain ID: 43114
Currency Symbol (optional): AVAX
Block Explorer URL (optional): https://snowtrace.io
Fantom ($FTM)
Network Name: Fantom Opera
New RPC URL: https://rpc.ftm.tools
Chain ID: 250
Currency Symbol (optional): FTM
Block Explorer URL (optional): https://ftmscan.com
Harmony ($ONE)
Network Name: Harmony
New RPC URL: https://api.harmony.one
Chain ID: 1666600000
Currency Symbol (optional): ONE
Block Explorer URL (optional): https://explorer.harmony.one
Cronos ($CRO)
Network Name: Cronos
New RPC URL: https://evm.cronos.org
Chain ID: 25
Currency Symbol (optional): CRO
Block Explorer URL (optional): https://cronoscan.com
Celo ($CELO)
Network Name: Celo
New RPC URL: https://forno.celo.org
Chain ID: 42220
Currency Symbol (optional): CELO
Block Explorer URL (optional): https://explorer.celo.org
Gnosis Chain ($xDAI)
Network Name: Gnosis Chain
New RPC URL: https://rpc.gnosischain.com
Chain ID: 100
Currency Symbol (optional): xDAI
Block Explorer URL (optional): https://blockscout.com/xdai/mainnet
Aurora Network ($ETH)
Network Name: Aurora
New RPC URL: https://mainnet.aurora.dev
Chain ID: 1313161554
Currency Symbol (optional): ETH
Block Explorer URL (optional): https://aurorascan.dev
Evmos ($EVMOS)
Network Name: Evmos
New RPC URL: https://eth.bd.evmos.org:8545
Chain ID: 9001
Currency Symbol (optional): EVMOS
Block Explorer URL (optional): https://evm.evmos.org